'Community Services' Win at Mortgage Finance Gazette Awards 2021
We're proud to win the Community award at Mortgage Finance Gazette Awards 2021

In a year where our purpose and focus on communities has become more relevant and important than ever, we're proud to be crowned the winner in the 'Community Services' category!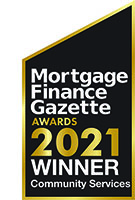 This year, we've supported our communities in the following ways:
Donated £100k to help launch the North East region's Coronavirus Response and Recovery Fund. The fund quickly grew to over £1m, which was distributed to more than 150 groups working with the elderly, disabled, homeless and BAME communities across Tyne & Wear and Northumberland.
Followed by an additional £200k in community grants for Covid-19, hospice care and cancer support, and ongoing financial support to the Sir Bobby Robson Foundation and the Princes Trust.
Announced a six-year, £1.1m commitment to partner with the Newcastle United Foundation, supporting their development of a state of the art hub for sports, education and wellbeing – NUCASTLE powered by Newcastle Building Society
Partnered with the National Innovation Centre for Ageing and onHand to pilot a Newcastle-based volunteering app which connects Society colleague volunteers with older people needing support with minor tasks. Already around 300 volunteering tasks have been completed.
Earlier in the year we purchased and distributed a free supply of 500 bottles of hand sanitiser throughout communities in the Upper Dales, through partnership with a distillery in the Yorkshire Dales.
Partnered with Nursem, a Newcastle-based hand cream manufacturer, to purchase a supple of their restorative hand cream for our branch and office-based colleagues. We also made a joint donation with Nursem of a month's supply of hand cream to every nurse and clinician across the Northumberland NHS Healthcare Trust; benefitting 7,500 doctors and nurses.
Helped launch a 'digital high street' called Buy Local North Tyneside, with the business chambers of Wallsend, North Shields and Whitley Bay, to support retailers and traders manage the impact of Covid-19 and encourage shoppers to return safely to the high street.
In total, we have committed over £1.5m in support of our communities in 2020. Behind all this activity you will find our colleagues, who worked tirelessly throughout the national lockdown to serve vulnerable customers with essential transactions and have continued to support our customers throughout the pandemic.
Stuart Miller, our Customer Director, said: "It's an honour to be recognised for the contributions we have made to our communities this year. I want to congratulate and thank colleagues, members and partners for their amazing efforts and support. We all recognise that this year, more than any in recent memory, support for our communities is vital as they deal with the impact and recovery from the pandemic."