White paper must be filled in.
8th February 2017
Tinkering with the housing market seems to have been flavour of the year for 2016.

We've had stamp duty surcharges, the Financial Conduct Authority has taken over the reins on second charge and consumer buy-to-let, landlords are to start losing tax relief on mortgage interest next year, they lost their wear and tear allowance earlier this year, they've seen lenders tighten up criteria almost across the board, raising rental income ratios and stress test rates ahead of the Prudential Regulation Authority taking control in 2017.

House prices have been up a bit and down a bit, transactions have definitely been down a bit and lending volumes have been up a bit.

And then we've had a flurry of 'ideas to help' fix Britain's so-called housing crisis. These have included the Redfern Review's recommendation the Government put politics aside and set up an independent housing commission to provide a long-term strategy for building; the Building Societies Association's proposal to focus on modern methods of construction in a bid to boost lending on modern methods of construction; and the Council of Mortgage Lenders' ideas to boost alternative housing tenures.

The Government itself has also been busy, announcing a housing infrastructure fund, extending Right to Buy with housing association tenants and titillating the industry with promises of a housing white paper that was due by the end of 2016 but which has been delayed until end of January.

The critical thing that must be addressed is that if we are really to try to understand how we help move the gears of the housing chain, we must understand that helping one part in isolation does not necessarily help others.

We have had scheme after scheme after scheme aimed at supporting first-time buyers over the past 10 years - and they are welcome. But if a meaningful contribution to solving the problems present in the UK's housing market is to be made, it needs to address first-time buyers, second time owners, third time owners and last time buyers if the chain is to move.

But there is another vital consideration - homeownership is one form of tenure but it's not the only one. Lots of people choose to rent from private landlords and there are also still many people who want and need social housing supplied by the Government. Homeownership has been and remains a goal for many in the UK, perhaps harking back to the 1980s when Margaret Thatcher's Right to Buy proved such a success with voters. Fixing the housing market means building a blend of housing types and investing in infrastructure to support communities.

Read the full article in Mortgage Introducer on page 12 here.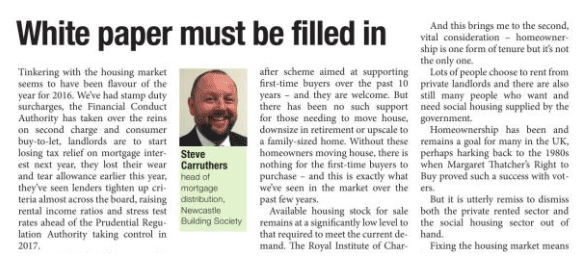 If you have any other queries you'd like to discuss with us, please don't hesitate to get in touch with your local Business Development Manager. Alternatively our Intermediary Support Team will be happy to assist on 0345 602 2338 or via webchat (Monday to Friday, 8am to 6pm).

This information is for use by authorised mortgage intermediaries only and should not be relied on by customers.