Buy-to-let market this year will be focused on remortgage
13th April 2017
Last month's Budget caused uproar across the nation after Chancellor Philip Hammond revealed plans to hike the amount of national insurance paid by the self-employed. Just a week later, and such was the backlash, he abandoned the policy proposal completely. Leaving to one side the merits of hiking this tax or not, it is interesting that Hammond bowed to pressure from this sector of society - dubbed Britain's entrepreneurs.
Britain's legion of landlords are entrepreneurs too. The most recent figures from HMRC, published last year, showed the number of landlords rising by 7 per cent in 2013-14 to reach 1.75 million*. This is a significant number of people, and is likely to be even higher than that now as according to the latest English Housing Survey, private landlords housed 20 per cent of everyone living in England in 2015-16**.
It's interesting that while the Chancellor felt compelled to abandon his proposal but has felt entirely justified in ignoring industry-wide calls to reconsider much tougher changes to tax relief on buy-to-let mortgage interest brought in at the start of April.
The national insurance u-turn was largely justified by the Government on the basis of a previous Conservative manifesto pledge not to raise NICs. But there remains a huge swell of opinion that argued a similar u-turn on tapering tax relief on mortgage interest would have been in the interests, not only of landlords, but also of tenants and would-be first-time buyers who are desperately trying to save for a deposit.
From 6 April 2017 landlords who own properties in their own name will start to lose tax relief on their mortgage interest which was previously available up to a maximum of 45 per cent for top rate taxpayers. Over the next three years, this will reduce to a maximum of 20 per cent, with landlords required to reclaim this as a tax credit. This effectively means that landlords will be taxed on their turnover rather than their profit.
The change has prompted the vast majority of buy-to-let purchases to be made within a limited company or SPV over the past 12 months. The advantage of this structure is that tax is paid only on profits and mortgage costs qualify as an allowable expense.
While landlords should be taking independent and professional tax advice to ascertain how best to structure their portfolios and finances in today's world, there is undeniably a sizeable opportunity for brokers to support these clients.
Alongside the tax changes, the Prudential Regulation Authority is also imposing tougher stress testing on buy-to-let affordability. This has noticeably driven a number of arguments in favour of looking at broader refinance options - balancing equity across a portfolio can pull down interest rates across individual deals, something landlords can really benefit from at the moment.
There is also anecdotal evidence that landlords are looking less to mainstream lets and more towards including semi-commercial and Houses of Multiple Occupation, where the yield is higher, making affordability requirements easier to meet.
This is a time of considerable change for those in buy-to-let. It's likely that purchase activity for brokers will therefore be focused on transfers from private to limited company ownership of existing properties, but that the lion's share of the buy-to-let mortgage market this year will be focused on remortgage.
Read the full article in Mortgage Introducer here on page 13. .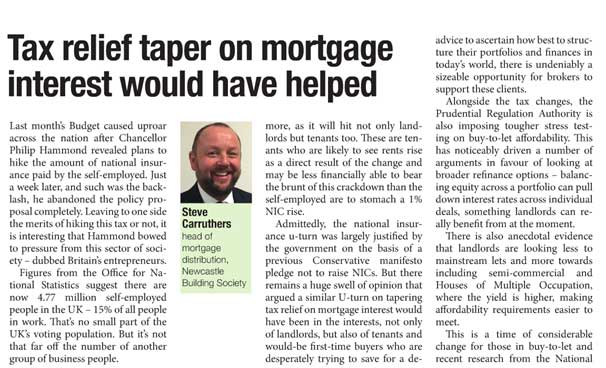 If you have any queries you'd like to discuss with us, please don't hesitate to get in touch with your local Business Development Manager. Alternatively our Intermediary Support Team will be happy to assist on 0345 602 2338 or via webchat (Monday to Friday, 8am to 6pm).
This information is for use by authorised mortgage intermediaries only and should not be relied on by customers.
*https://homelet.co.uk/letting-agents/news/article/how-many-landlords-and-tenants-are-there-in-the-uk
**https://www.gov.uk/government/uploads/system/uploads/attachment_data/file/595785/2015-16_EHS_Headline_Report.pdf