Brokers Role in Building More Homes
1st July 2017
Boosting the supply of new homes is critical, and has finally been recognised by the country's leaders. In the run up to the election, every party leader threw out huge numbers in a bid to win the trust of British voters, many of whose personal wealth relies so heavily on home ownership today.
Labour said it would aim to deliver one million homes in the next five years, the Conservatives promised one million by 2020 and the Lib Dems said they'd deliver 300,000 a year by 2022.
These are great ambitions. There's just one obvious hitch - the UK is sorely lacking in enough skilled builders, electricians and plumbers to deliver this volume of new homes in that time frame.
Last year the Tories backed self-build by requiring local councils to keep a register of those hoping to build their own homes. Together with government pressure on councils to provide sufficient 'shovel-ready' plots of land to match the demand for self-build land, these registers aimed to support more people into realising their ambition to build a new home.
It's had limited success - a government briefing paper published in March by Wendy Wilson revealed that the UK has a much lower rate of self-building than other European countries. The sector currently accounts for between 7-10% of completions - around 12,000 homes a year - while in Austria it accounts for around 80%.
This suggests that there may be significant unmet demand for self-build in the UK. A survey commissioned by the Building Societies Association back in 2011 suggested that 53% of people in the UK would consider building their own home given the opportunity. Around 100,000 people subscribe to one of the main plot-finding websites. Rightmove has an average of 400,000 monthly searches on land. The problems have largely been a lack of awareness, red tape slowing planning applications down, and a shortage of specialist finance.
Building societies have long been among the more willing lenders ready to support custom and self build projects. It has been seen in the past as it's riskier lending, more can go wrong and it's harder to cover risk because, until a home is completed, its resale value can be significantly lower than the cost of the building fabric.
A report put together in 2013 by the University of York highlighted just how much of a challenge would-be self builders faced in securing mortgage finance. It found there were few lenders in the market, significant deposits were required, decision-making was slow and the narrow range of products failed to recognise the different risks associated with different forms of self-build.
Things have improved since then and the recent Housing White Paper proposed the Government would 'work with lenders to ensure they have plans in place to increase their lending in line with consumer demand'. Mortgage brokers are in a particularly good position to support self and custom build, especially where they might specialise in new build and have some experience of Help to Buy.
In a market where the value that brokers add is knowledge, experience and advice, ensuring that you have at least a working knowledge of this option is worth it. And you don't have to be an expert yourself - there are several specialist brokers in the market who are only too happy to receive referrals and share commission.
The country seems to agree that Britain needs to get building now. Brokers have the opportunity to do their bit too.
Read the full article in this month's Mortgage Introducer here on page 12.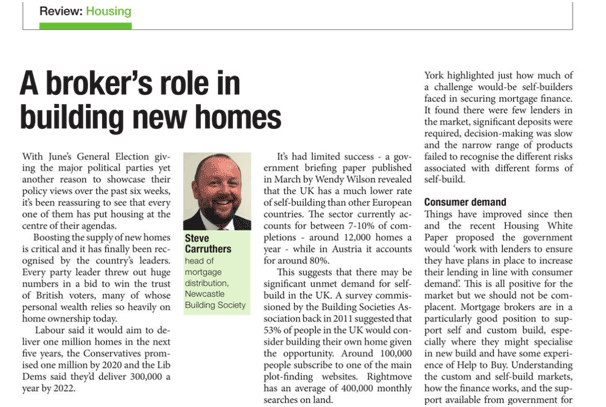 For further information on our self build proposition please contact your local Business Development Manager. Alternatively our Intermediary Support Team will be happy to assist on 0345 602 2338 or via webchat (Monday to Friday, 8am to 6pm).
This information is for use by authorised mortgage intermediaries only and should not be relied on by customers.