Why bigger properties can be just as beautiful
28th July 2017
The thing about money is, the more you have, the more complex an array of things you can do with it. Not only that but there is an increasing likelihood that the more money you have, the more complex your affairs become. Unfortunately, it is often the case that complexity of this kind is not so practical when it comes to getting a mortgage.
While the Mortgage Market Review has done much to protect consumers from over-extending themselves, it has - necessarily - focused mainly on the 'typical' mortgage borrower. Those with a predictable, monthly salary, good credit score and the ability to demonstrate this on paper pretty easily have tended to sail through the affordability calculations in place since 2014.
The self-employed, those working on a contract basis, and older borrowers without guaranteed income meanwhile have found it tougher. It's perfectly possible to get a mortgage in these circumstances but it does require a little more effort and know-how.
Less talked about, but also affected by the more formulaic approach to affordability post-MMR, are high net worth individuals, and those looking to buy expensive homes with large mortgages.
Traditionally, the high value mortgage space (typically loans in excess of £500,000) has been catered for by the UK's private banks. These institutions are used to dealing with individuals with wealth packed away in trusts, off-shore vehicles, income from family offices, a wide selection of investment income as well as salaries and bonus income. The catch for borrowers however, is that in order to be considered for a mortgage by a private bank - you'll need to deposit a cool million with the bank to invest. This might be a plausible strategy for some, but it can be unnecessarily restrictive and it puts a potentially unhelpful brake on employing that capital elsewhere - something that many, quite understandably, may want to do.
This is one of the biggest advantages of being a society with size but without the restrictions of volume players such as the high street banks. Societies like Newcastle Building Society have experienced underwriters who can work with brokers to consider their clients' needs because we have the time, the appetite - and the experience.
At Newcastle Building Society, we've listened to feedback from our broker partners from across the nation who see clients struggling to find a lender to partner with on larger mortgages. We take a common sense approach to the fact that those buying larger homes tend to have more complex income arrangements.
In nearly all these circumstances it makes sense to take an individual approach, such as being able to understand whether income from salary and dividends for limited company directors or their share of net profit for an established business is more appropriate. , Working with brokers to agree the right solution for their clients, and developing bespoke policies for specific markets forms part of this commitment.
Life is full of exceptions. It's our job to make the exceptions feel exceptional.
Read the full article on page 12 of Mortgage Introducer here.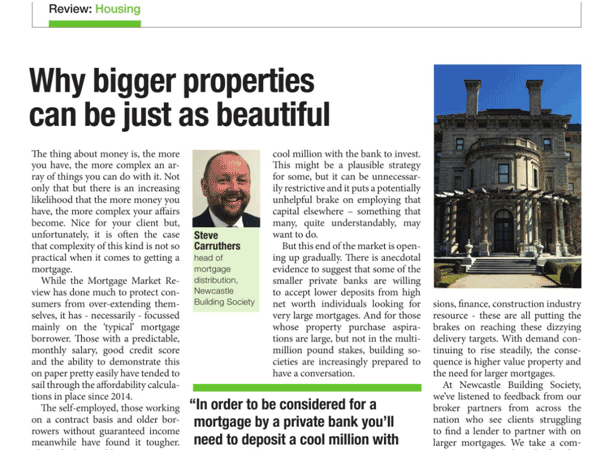 For further information on our self build proposition please contact your local Business Development Manager. Alternatively our Intermediary Support Team will be happy to assist on 0345 602 2338 or via webchat (Monday to Friday, 8am to 6pm).
This information is for use by authorised mortgage intermediaries only and should not be relied on by customers.