Societies can help develop Northern Powerhouse
25th August 2017
What has happened to the Northern Powerhouse? The brainchild of former Chancellor George Osborne, the drive to support business growth and increased productivity in the North of England has gone rather quiet since the general election back in June.

To recap, the Northern Powerhouse strategy was intended to provide government support in the form of large scale investment in transport infrastructure to improve connections between and within the North's towns, cities and counties.

What has this to do with mortgages I hear you ask? Well, less mortgages and more building societies. It's all too easy to forget the fundamental reason building societies exist: they were about collectively saving money in a small local community in order to support the funding of building that same community's homes and businesses.

Ultimately, the theory that sits behind the government's desire to see increased investment in Northern regions of England is the same as this, albeit on a much wider scale.

The mutual model is about community, society and supporting the growth of them both and this is the role that all regional building societies should play in their local communities to a greater or lesser degree. At the minimum, societies provide savings and mortgage services to local residents, often underwriting cases and security on an individual basis, helping customers in the region to secure finance that they might otherwise be unable to secure.

This isn't because they're unable to afford a mortgage, but rather because of circumstances that might affect their ability to sail unscathed through a larger bank's credit scorecards. The support offered by local building societies whose underwriters understand the local economy dynamics clearly, really matters.

That said, we shouldn't be resting on our laurels and the role of regional building societies has to evolve to deliver for local purpose. This means moving beyond corporate social responsibility, where we might allow employees time off to engage in fundraising activities for charity. There are of course implications in terms of products and services but more broadly, local building societies must think in terms of developing ideas and solutions to help local communities.

This sounds vague - and it is, deliberately. What works in one region of the country won't necessarily be what is needed in another with a completely different local economy and set of challenges for residents.

Our own Community Fund is just one way in which my Society works hard to give back to the society that supports us. To that end, we offer local individuals, groups and charities grants to fund specific projects that 'make a difference' to local people.

It's not yet entirely clear if central government has abandoned the Northern Powerhouse idea, but either way there is room for meaningful contributions such as this from societies whose original purpose has, from time to time, been forgotten in the rush to write business and grow in the boom times.

Read the full article on page 12 of Mortgage Introducer here.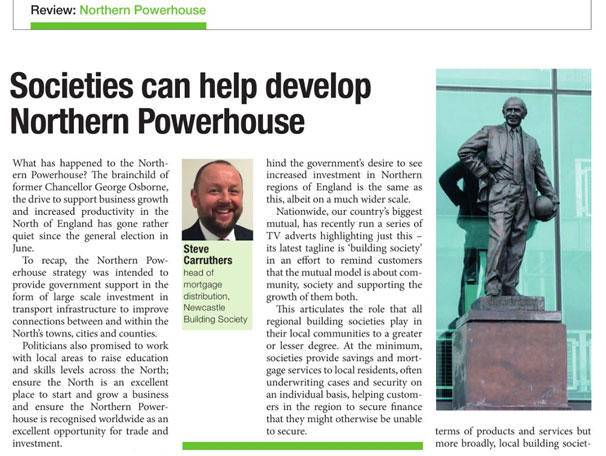 To view our full product offering click here.
For further information on our self build proposition please contact your local Business Development Manager. Alternatively our Intermediary Support Team will be happy to assist on 0345 602 2338 or via webchat (Monday to Friday, 8am to 6pm).
This information is for use by authorised mortgage intermediaries only and should not be relied on by customers.