Help Is Still at Hand for First Time Buyers
21st March 2017
Help to Buy has been a catch-all brand for the Government's various schemes brought in since 2012 in a bid to support homeownership in the UK. The official figures suggest it has helped more than 200,000 people aspiring to become homeowners realise that dream.

The Help to Buy mortgage guarantee scheme, which launched in 2012 and came to a close on 31 December 2016, provided vital reassurance to lenders that had retreated from providing higher loan-to-value mortgages. In the four years it operated, 95,343 mortgages were completed with the scheme's support. Of these, 79 per cent were purchases by first time buyers. The numbers show it helped, but perhaps more importantly, its existence gave lenders the confidence not only to lend up to 95 per cent LTV where the Government guarantee was in place, but also to offer their own high LTV loans directly to borrowers without the guarantee. The implementation of this part of Help to Buy was less about funding purchases directly and much more about providing Government backing to a part of the market that badly needed stimulus to start working properly again. To this extent, in the three months since the scheme closed, there is now evidence it has worked. Recent figures from Moneyfacts suggest that the number of high LTV products has not been hampered by the scheme's closure and lending to first-time buyers seems to be holding up. In fact, there is now a much healthier number of mortgage deals for borrowers with a 5 per cent deposit, with 242 available at the start of 2017 compared with just 49 deals back in 2012.

The second part of the scheme, the equity loan scheme, is active until 2020 and the latest official figures show that to the end of September last year, it has helped more than 100,000 people to purchase a property - either for the first time or to support a move to a larger new build home. It also supports house purchase for those with a 5 per cent deposit, but by providing a Government-backed loan - interest-free for five years - equal to up to 20 per cent of the property value, supported by a 75 per cent LTV mortgage from a lender. It has supported access to homeownership, but not in enormous numbers - and there remains a question mark over affordability when the five-year interest-free term expires and borrowers begin to pay interest to the Government at 1.75 per cent, rising by inflation each year. This could prove pretty expensive over time.

There is also another important consideration: where the mortgage guarantee scheme funded house purchases with a median value of £157,658 the equity loan scheme has funded purchases of £229,608 across England and Wales, and £340,000 in London. This suggests that the scheme may have unintentionally supported inflating house prices, pushing homeownership further out of reach for future generations not yet ready to buy.

The Help to Buy Isa was launched much more recently and offers those saving a cash boost from the Government when they take their money out to purchase their first home. The latest data show since the launch of the Help to Buy Isa in December 2015, 27,222 property completions have been supported by the scheme. Some 38,595 bonuses have been paid through the scheme with an average bonus value of £530. In April however, the Lifetime Isa will supersede the Help to Buy savings scheme. To be eligible, savers will have to be between the ages of 18 and 40, and any savings put into it before their 50th birthday will receive an added 25 per cent bonus from the Government up to £4,000 a year. Given that so much evidence suggests the biggest problem facing first-time buyers is not accessing a mortgage but raising a deposit, this should provide some support at least. Whether the bonuses keep pace with rising house prices is another matter.

Overall, Help to Buy has provided much-needed support to a market that was pretty bruised by the credit crunch and financial crisis that followed. Effectively, the biggest value for the industry of Help to Buy has been to promote help for first-time buyers. Now, it is up to brokers and lenders to ensure that would-be buyers who approach us are made aware that help is still at hand, even without Help to Buy specifically.

Read the full article in Mortgage Introducer here on page 15. .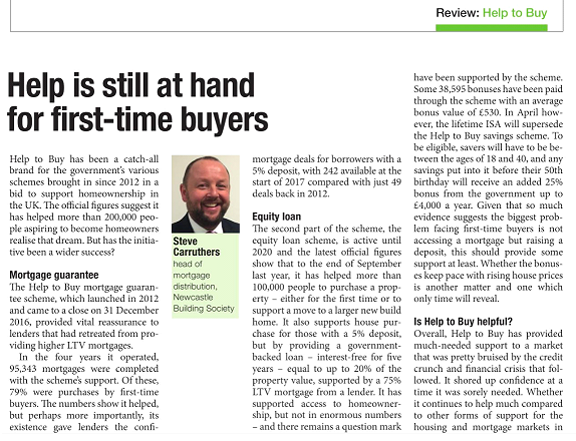 If you have any queries you'd like to discuss with us, please don't hesitate to get in touch with your local Business Development Manager. Alternatively our Intermediary Support Team will be happy to assist on 0345 602 2338 or via webchat (Monday to Friday, 8am to 6pm).
This information is for use by authorised mortgage intermediaries only and should not be relied on by customers.