Top 10 Reasons Why Brokers Use Newcastle Intermediaries
Following consultation with our key intermediaries, we have compiled our 'top 10 reasons why brokers use Newcastle Intermediaries' into the infographic below.

Please let us know which criteria you utilise the most by getting in touch on twitter or linkedin.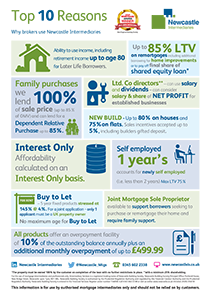 Click to enlarge image
If you haven't already, register with us to take advantage of our criteria and products.
If you have any queries you'd like to discuss with us, please don't hesitate to get in touch with your local Business Development Manager. Alternatively our Intermediary Support Team will be happy to assist on 0345 602 2338 or via webchat (Monday to Friday, 9am to 6pm).